Canister vacuum cleaners are an excellent option for those who take cleaning seriously. These vacuums are designed to deliver powerful suction and thorough cleaning performance, making them ideal for homes with pets, allergies, or a lot of foot traffic. They feature a powerful motor capable of picking up dirt, dust, and debris from even the most hard-to-reach places.
The canister design makes them easy to maneuver and lift, which is especially useful for cleaning large areas like living rooms, dining rooms, and bedrooms. Additionally, they come with various attachments such as crevice tools, dusting brushes, and upholstery tools that allow you to clean different surfaces and areas in your home easily. While canister vacuums can be more difficult to store than upright vacuums, their brush heads can reach tight spaces that even the best upright vacuums may have difficulty cleaning. This makes them ideal for cleaning the stairs and tight spaces such as corners and tight spaces.
Another advantage of Canister Vacuum Cleaners is that they tend to operate more quietly, which makes it more comfortable to use them at any time of the day and not disturb your home environment. Moreover, they excel at cleaning bare floors such as tile, hardwood, and laminate, common flooring types in many homes. With the ability to adjust the suction power, you can adapt it to any surface. Canister vacuum cleaners are an excellent choice for those who want a powerful, versatile, and easy-to-use vacuum cleaner that delivers exceptional cleaning performance.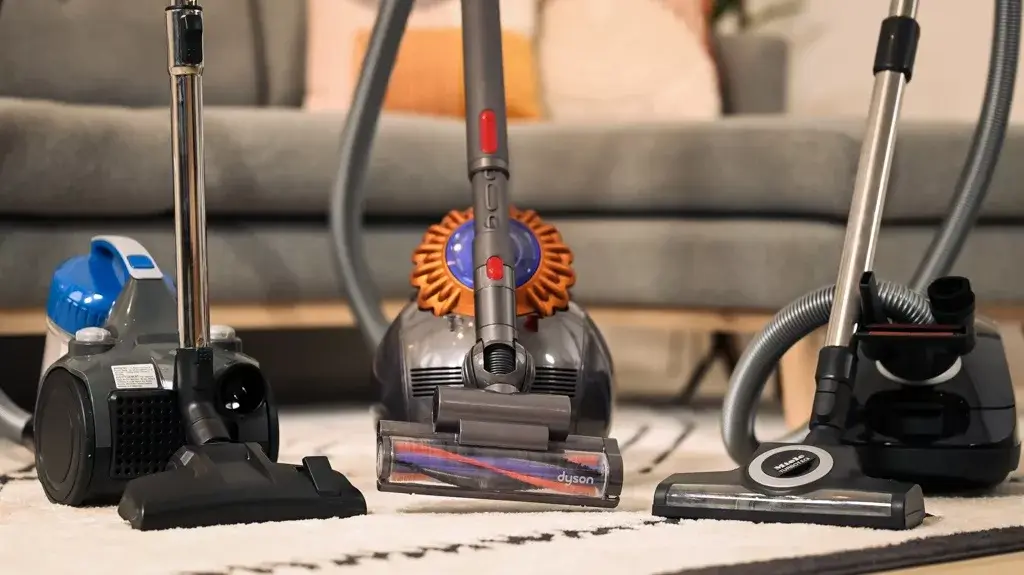 How to choose the right product for your home?
When searching for the perfect Canister Vacuum Cleaners for your home, it's important to consider several factors. Here are a few things to remember to help you choose the best model for your needs.
Bagged or bagless: Both canister vacuums can effectively pick up dirt and debris, but they have some key differences. Bagged vacuums are typically easier to clean, as you can remove and discard the used dust bag. However, you'll need to regularly purchase replacement bags, which can vary in price between brands. Additionally, some people find that bags can trap some odors and bacteria, and if you have someone with allergies in your house, that can be a problem. On the other hand, bagless vacuums have a dust cup with a filter that needs to be emptied and cleaned after each use. While you won't have to buy bags, you will need to periodically clean or replace the filter to maintain its cleaning power, and emptying the dust cup can be messy and expose you to dust, which could cause an allergy attack. Plus, if you're sensitive to dust, it can cause problems when you empty it.
Space: If you plan to use your vacuum to clean stairs, a lightweight canister vacuum or an extra-long hose and cord is a good choice. This will allow you to easily maneuver the vacuum up and down the stairs without struggling with its weight or reach. For larger homes, a longer cord or a cordless vacuum may be more practical, as you won't have to switch between outlets as often. Remember that cordless vacuums offer more flexibility but have shorter runtimes than corded models. Additionally, if you have a large home, you might want to look for models with a bigger dustbin, so you don't have to empty it as often. On the other hand, cordless vacuums can be great for smaller homes or apartments because you don't need as much cleaning time, and smaller, portable models are more convenient to store.
Attachments: The attachments that come with a vacuum can be just as important as their other features. Most models come with a dusting brush, upholstery tool, and crevice attachment to clean hard-to-reach areas, but a powerhead attachment is also useful for deep cleaning carpets and rugs. This attachment is great for cleaning pet hair and deep-seated dirt and debris. A universal floor head or bare floor brush will work well if you only have bare floors or flat-pile rugs. Consider a motorized powerhead with a rotating brush if you have medium- or deep-pile carpets.
Additionally, if you have a car, attachments for cleaning it would be very useful, such as a crevice tool for tight spaces or an upholstery tool for cleaning seats. Additionally, some models come with specialized tools like a parquet nozzle for cleaning hardwood flooring or a flexible hose for cleaning tight spaces. Consider your cleaning needs and look for the model with the attachments you'll use.
Filtration: Filtration is important when choosing a Canister Vacuum Cleaners, particularly if you or anyone in your household suffers from allergies or asthma. Look for models that have HEPA filtration, which captures 99.97% of particles as small as 0.3 microns. This will help to trap harmful allergens, dust, and other particles, keeping them out of the air you breathe.
Canister vacuum cleaners can be a great choice for those who want a powerful, versatile, and easy-to-use vacuum cleaner.
Miele Complete C3 Kona Canister Vacuum-Corded, Obsidian Black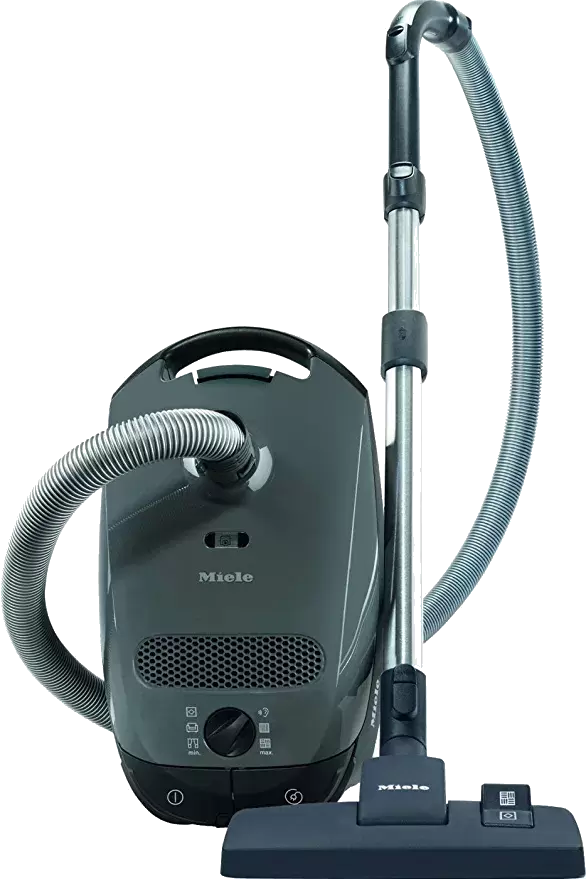 In Canister Vacuum Cleaners consist on Miele's vacuums are renowned for their exceptional performance and innovative design features, and the Miele Complete C3 is no exception. This particular model is specially designed to tackle dense and plush carpets. The Miele Complete C3 has a power nozzle that can adjust the brush roll to different levels. This feature allows the vacuum to adapt to different carpet types and pile depths, providing a more effective cleaning experience.
In testing, we found that this feature made cleaning through thick, plush carpets much easier, resulting in a deep and thorough cleaning that can remove even the most embedded dirt and debris. Additionally, the vacuum comes with an assortment of attachments, such as a crevice tool, dusting brush, and upholstery tool, which allows you to clean different surfaces and areas of your home with ease, giving you the ability to clean your furniture, stairs, and tight spaces with ease.
Furthermore, the vacuum offers multiple suction levels, allowing you to adjust the power to suit the task. This versatility makes it a powerful and efficient tool that can tackle many cleaning tasks. Many vacuums can trigger sneezing, particularly for those with allergies or asthma. But the Miele Complete C3 addresses both of these issues by using a self-sealing high-filtration bag that captures the dust, so you only have to throw it away once it's full, and by ensuring that the entire vacuum is sealed to eliminate leaking.
This, along with the HEPA AirClean filter on the exhaust that keeps 99.99% of fine dust and allergens from being released back into the air, makes it an ideal choice for allergy and asthma sufferers.
Eureka 3670M Canister Cleaner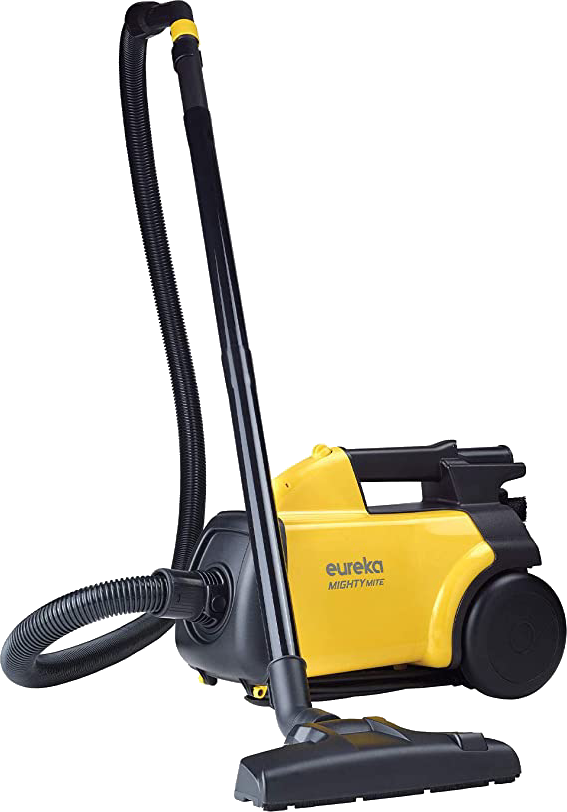 The Eureka Lightweight Canister Vacuum Cleaners is a budget-friendly, compact, and lightweight option that is perfect for those who live in small apartments or dormitories or are college students with limited space. Weighing in at less than 9 pounds, it is easy to manoeuvre and transport, making it a great option for carrying up and down the stairs or for those with mobility issues. It also has a small footprint, making it easy to store when not in use. Plus, its lightweight design and small size make it easy to take to different rooms or even different floors of your home, and it can be easily stored in a closet, under the bed, or in a small corner without taking up too much space.
This model has received a 4.5-star rating from more than 9900 reviewers on Amazon, who praise it for its powerful suction, easy-to-use design, and its two wand attachments, which are great for cleaning hard-to-reach places such as corners, baseboards, and stairs. The wand attachments also provide the following:
More versatility than a typical vacuum.
Allowing you to tackle various cleaning tasks, such as furniture and drapes.
Even the inside of a car.
This vacuum cleaner has been part of the Eureka line for many years, so it is a reliable model that has proven effective in cleaning tasks. It's also built to last, as it's constructed with durable materials that can withstand the wear and tear of regular use. It's best for quick clean-up jobs on bare floors or smooth surfaces, and it comes with a blower port that can be used for blowing leaves or debris in the garage or cleaning outdoors.
Bissell SmartClean Canister Vacuum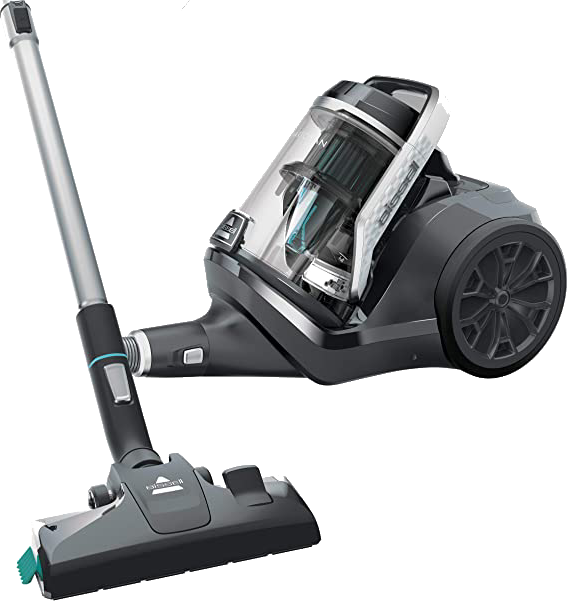 Cleaning can be tedious and frustrating, especially when you have to stop in the middle of the job to unplug your vacuum and change the power outlet because your vacuum's cord is not long enough to reach all the corners of your house. But with the Bissell bagless canister model, you won't have to worry about this problem anymore. With a 30-foot cord, a 6.5-foot hose, and a telescoping extension wand, this vacuum cleaner provides an impressive 40-foot cleaning radius, which makes it easy to reach under beds, behind sofas, and in other tight spaces without having to unplug it.
The Bissell bagless Canister Vacuum Cleaners has three suction speeds, allowing you to adjust the power to suit the task. Whether you need to deep clean carpets, remove pet hair, or pick up debris on hard floors, this vacuum cleaner can easily handle the job. Furthermore, it's equipped with a multi-floor cleaning nozzle and an additional dusting brush built into the handle. This allows you to seamlessly transition between cleaning bare floors, area rugs, upholstery, and draperies, making it an incredibly versatile tool.
Although we haven't tested this model yet, Bissell upright vacuums have done well in our testing, and we consider them reliable and efficient cleaning solutions. With its long cord, powerful suction, and versatile attachments, this canister vacuum cleaner is a great option for those who want to keep their home clean without interruptions.
Miele Blizzard CX1 Turbo Team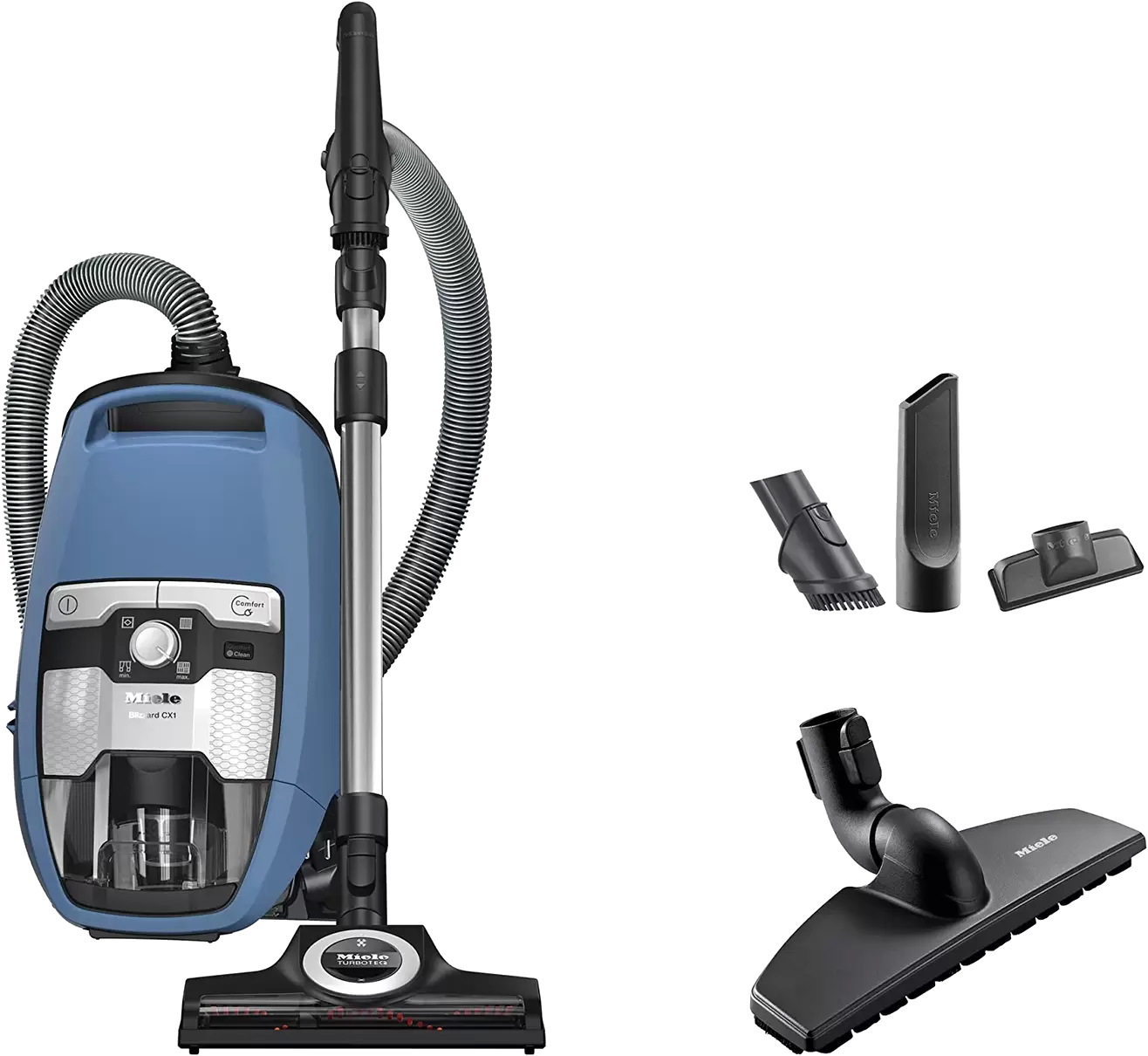 The Boost CX1 Parquet vacuum cleaner is a powerful and efficient cleaning tool designed to suction debris effectively without pushing it forward, a common issue with other vacuum models.
In testing, the vacuum easily picked up dry oats, demonstrating its powerful suction and ability to handle various cleaning tasks. The vacuum comes equipped with a HEPA filter, cord rewind, parquet floor brush tool, and an extendable wand, all housed in a compact canister that's about the size of a small cooler. Additionally, it has a large, easy-to-empty dust bin and jumbo wheels that allow it to manoeuvre smoothly, making it easy to manoeuvre around furniture and other obstacles.
The vacuum comes with a universal floor head which makes it easy to switch between low carpets to hardwood floors with a flip of one switch, and there's no need to change attachments. However, it lacks a rotating brush to remove embedded dirt from deep pile carpets. But it does come with a large oval parquet floor brush that safely cleans the cracks and crevices of hardwood floors, allowing you to give your hardwood floors an extra thorough cleaning.
Oreck Compact Canister Vacuum Cleaners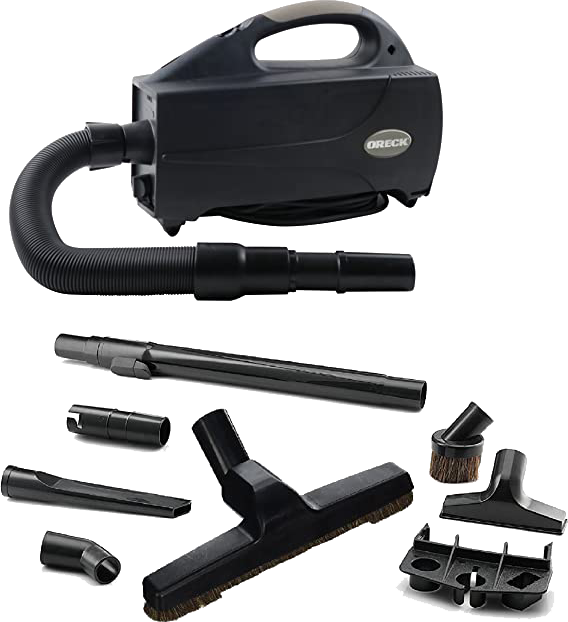 The Oreck lightweight canister vacuum cleaner is a portable and convenient option that is perfect for small cleaning tasks. Weighing just 5.5 pounds, it is the lightest of our picks and is easy to carry around your home. It has a shoulder strap and a telescoping extension wand, making it perfect for cleaning hard-to-reach and high-up places like window frames, ceiling fans, and light fixtures. The extension wand also allows you to easily clean areas such as stairs or tight spaces. With a 20-foot cord, you don't have to worry about the vacuum being too close to an outlet when cleaning messes like spills in the car.
While the Oreck can't deep clean pile carpets, it excels at cleaning hard floors, flat carpets, and area rugs. We have tested it in the past and were impressed with its pick-up performance. It uses a bag to contain the dust and meets HEPA filtration standards, making it an efficient and reliable option. Additionally, it is backed by a three-year limited warranty, giving you peace of mind knowing that your investment is protected. Furthermore, it can double as a blower, making cleaning debris from the garage, workshop, or patio easy. It's a versatile and reliable option for those looking for a lightweight and portable vacuum that can handle small cleaning tasks around the home.
I hope you can select best Canister Vacuum Cleaners after reading this blog
Comparison