Backpack vacuums are very comfortable and helpful for cleaning your home or commercial space. Upright vacuums can be very tiring and difficult to drag around sometimes. You don't have this problem with Best Backpack Vacuums in 2022 because they are usually lightweight, easy to handle, and have a long cord for the power outlet. These vacuums have padded shoulder straps and easy to carry design, so you don't feel tired for a long time.
There are different types of backpack vacuums. Most backpack vacuums are used in commercial spaces like offices, buildings, and restaurants, but others can be used for homes. They are usually clean carpet, floor, or other things for home use. Home vacuums need to be lightweight, easy to handle, and low storage rate. In contrast, commercial backpack vacuums need to have a large storage capacity, longer cord, and a comfortable design for more extended uses. Backpack vacuums can be cordless and corded.
The cordless models are only for one room and cannot be used for a longer time and have a tiny storage tank while you can use code vacuum anytime and anywhere. We will review both types in detail. There are also hybrid vacuums in the market that can be used with both cords and without a cord.
Bagged or bagless is also a variety in backpack vacuums. Bagless vacuums are compact and small in size, but they have a small bin attached to them to be emptied afterward. Bagless vacuums tend to spill no matter how careful you are. The bagged vacuums have a separate container in which there is a disposable bag that can be dumped very easily.
The manufacturers don't usually show suction power in their specifications, while it is the most important thing to consider when shopping for a vacuum cleaner. The power they use in the specification of the product is in wattage, and it will show you how much electricity it consumes. While wattage is also essential, it doesn't mean the vacuum has the same suction power strength. Suction power is the ability to suck things from the ground, carpet, or floor. CFM usually denotes it.
You can also check it out: Best Pool Vacuums
Suction power depends upon the design of the motor. A low-wattage motor can suck more than a high-powered motor if designed better. High wattage means high electricity bills, so you should look again if you consider buying your vacuum on wattage and not the suction power.
A longer power cord means you can easily access areas at long distances without worrying about changing the outlet again and again. Longer cord lengths give you the space to work, maneuver, and go to difficult places without worrying about tangling the cord, so cord holding design is also very important in this regard. We will discuss this further for each product.
Collection bags need to be regularly emptied to avoid your vacuum's clogging and low performance. The storage capacity tells you exactly when to clean your bags without interrupting your work. Home needs a lower storage capacity, while commercial places need to have a larger storage capacity. You should consider buying a vacuum cleaner.
Filtration level indicates how clean the air will be when you are done cleaning. It tells you the effectiveness of the cleaning. You should know different filtration standards depending upon the pollutants and germs in your workplace or home. The most commonly used filter is the HEPA filter which claims to remove 99.7% of harmful particles 1 micron or smaller in size.
A powerful suction power means more noise, but it doesn't have to be the case. The best vacuum cleaner needs to be good at cleaning and quiet. The average human ear can work at 70dB without getting distracted, and you can hear a phone call too at this level. You should also consider the dB rating of your vacuum if you tend to use it for a more extended period of time.
Backpack vacuums need to be lightweight because they can cause back pain and shoulder aching if used for a more extended period. What is the point of buying a backpack vacuum if you can't use it properly and comfortably?
The factors that add to the weight are the size and dimension of the motor used. The storage tank is also a big problem because it can add weight to your vacuum. It would be best if you looked into importance while buying a vacuum. In this review, we have chosen all the best lightweight products and can be used anywhere.
Warranty is insurance that if something happens to your machine, it will be repaired, so it should be considered while shopping for a vacuum cleaner. You should consider repairing parts, returning the broken vacuum and customer support as a part of the warranty. That'sThat's why public feedback and reviews are so important.
The best vacuum has extra features and tons of attachments for every situation. Additional attachments include crevice tools, upholstery tools, wands, hoses, dust brushes, and floor brushes. Washable HEPA filters are also included in extra attachments.
Corded vacuums have a lot of power and extra attachments and can be used for a very long period of time, while cordless vacuums are beneficial for many things too, and they don't need a power outlet to work.
You should consider this if you are looking for a specific type of mess to clean. Some vacuum cleaners have the capability of both types. It depends on you which type you want.
6 Best Backpack Vacuum Cleaner in 2022
Now let's take a detailed look at our best picks and their features.
ProTeam Super QuarterVac Commercial Backpack Vacuum
Features
Motor: 1188W/120V
Corded: yes
Cord length: 50 ft.
Capacity: 6 qt.
Dimensions: 6.5 x 6.5 x 22 inches
Weight: 10 lbs.
Warranty: 3-year limited
Extra attachments: Crevice tools, wands, hoses, HEPA filter, Noise reduction
We chose ProTeam super Quatervac due to its small size, low weight, high suction power of 109 CFM, high-quality motor, durability, and cleaning everything from pet hair to chewing gum. It has a HEPA filter that allows clean air quality for your office and home.
The ProTeam super Quatervac has a 1188W battery that runs on 120V, 6 quarts capacity for dust and garbage, microfilters, and HEPA filters which gives 99.7% elimination of dust particles germs that cause asthma and all the particles that are 1 micron or smaller.
The customers have applauded the vacuum for its features like powerful suction, easy-to-use grip, and access to every nook and cranny it provides with its dust brush and floor brush. With a cord of 50 feet in length, it can be used as a home appliance or as a commercial utility product. With a padded shoulder strap and easy back technology, you can use it for hours and won't feel any back pain.
With a warranty of 3 years, you can use it freely as much as you like. The box of ProTeam super Quatervac contains an extension wand for easy access in narrow places, a commercial cleaning kit that cleans hard floors, tiles floors, carpets, stairs, furniture, and air vents. Some customers have complained about the hose, but it features a long hose and a short hose which can be used on different occasions.
Pros
It has excellent suction power and features a 50 feet cord.
You get extension coverage in all corners.
It features a large storage tank which is not very heavy to pick up.
Four-stage filtration means you get quality fresh air without any germs.
It has an integrated storage belt.
There is no noise produced.
HEPA filters make sure that there are no dust particles left that are harmful for your health and it also eliminates 99.7 percent of germs smaller than 1 micron.
Cons
It has a poor hose construction which some customers complained about.
It is not suitable for delicate surfaces.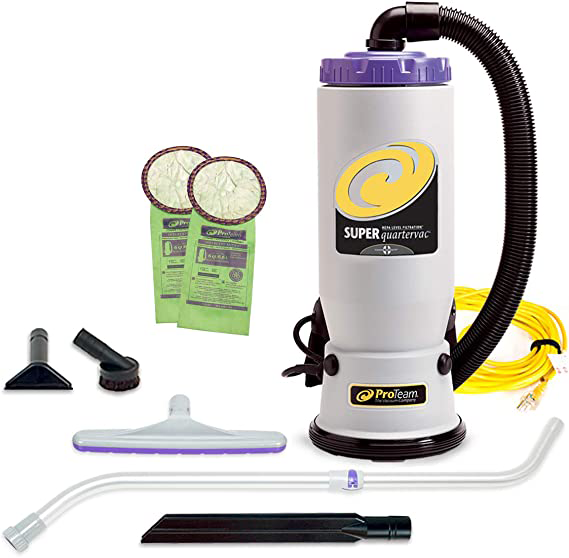 Hoover Commercial CH30000 Lightweight Canister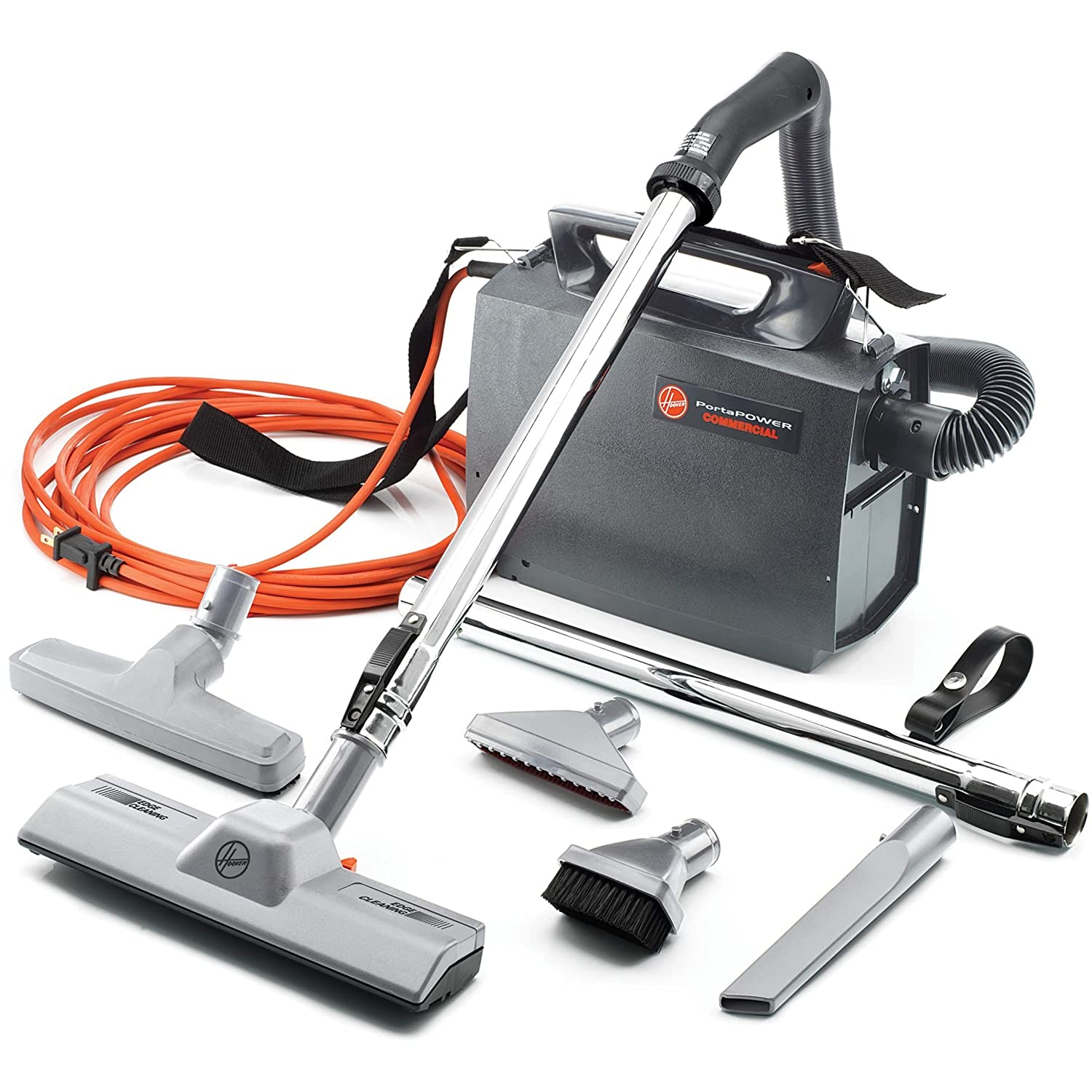 Features
Motor: 1080W/120V canister
Corded: yes
Cord length: N/A.
Capacity: N/A
Dimensions: N/A
Weight: 8 lbs.
Warranty: 2 years limited
Extra attachments: Nozzles, wands, hoses, HEPA filters
If you are looking for a high-power and low-weight commercial vacuum, you should look for a hoover vacuum. Hoover makes excellent vacuum cleaners that are durable and reliable in all kinds of situations.
It is a canister vacuum which means it has excellent suction power, and it also comes with a built-in blower which makes cleaning more accessible and fun. This vacuum is truly a wonder with a suction power of 110 CFM. There are also some extra attachments in the box, including shoulder straps, wands, upholstery tools, brushes, nozzles for different kinds of cleaning, which can clean walls, windows, carpet, and hard floors.
You can also check it out: Best Commercial Vacuums
This 8 pounds machine has an impressive number of filters like HEPA filters, Filtration bags, and a spacious storage bin. The storage bin is built-in to detach it and empty it quickly. People use this model for workplaces like buildings, offices, restaurants, churches, and at home. When a machine has 110 CFM of suction power, you can practically use it anywhere.
Customers reviewed this product for its long life and impressive cleaning, and their customer service is not half bad, and spare parts are readily available. With 4000+ reviews and a rating of 4.5, it sucks hard(pun intended). Some customers have claimed issues like lever problem and breaking down, and some have complained about nozzles not working, but most reviews are positive, and it has an affordable discounted price of 127$ if you buy it now.
Pros
It has excellent suction power and is very good for hard-to-reach places.
This vacuum has a lot of diversity for picking up dust particles and cat hairs on any kind of surface.
It is small enough for a car and strong enough for a hard floor.
Warranty is good, and customer service is better.
Cons
It doesn't have a long extension power cord, so moving around and maneuvering can be tricky.
The body is plastic, so it can break easily if not stored carefully.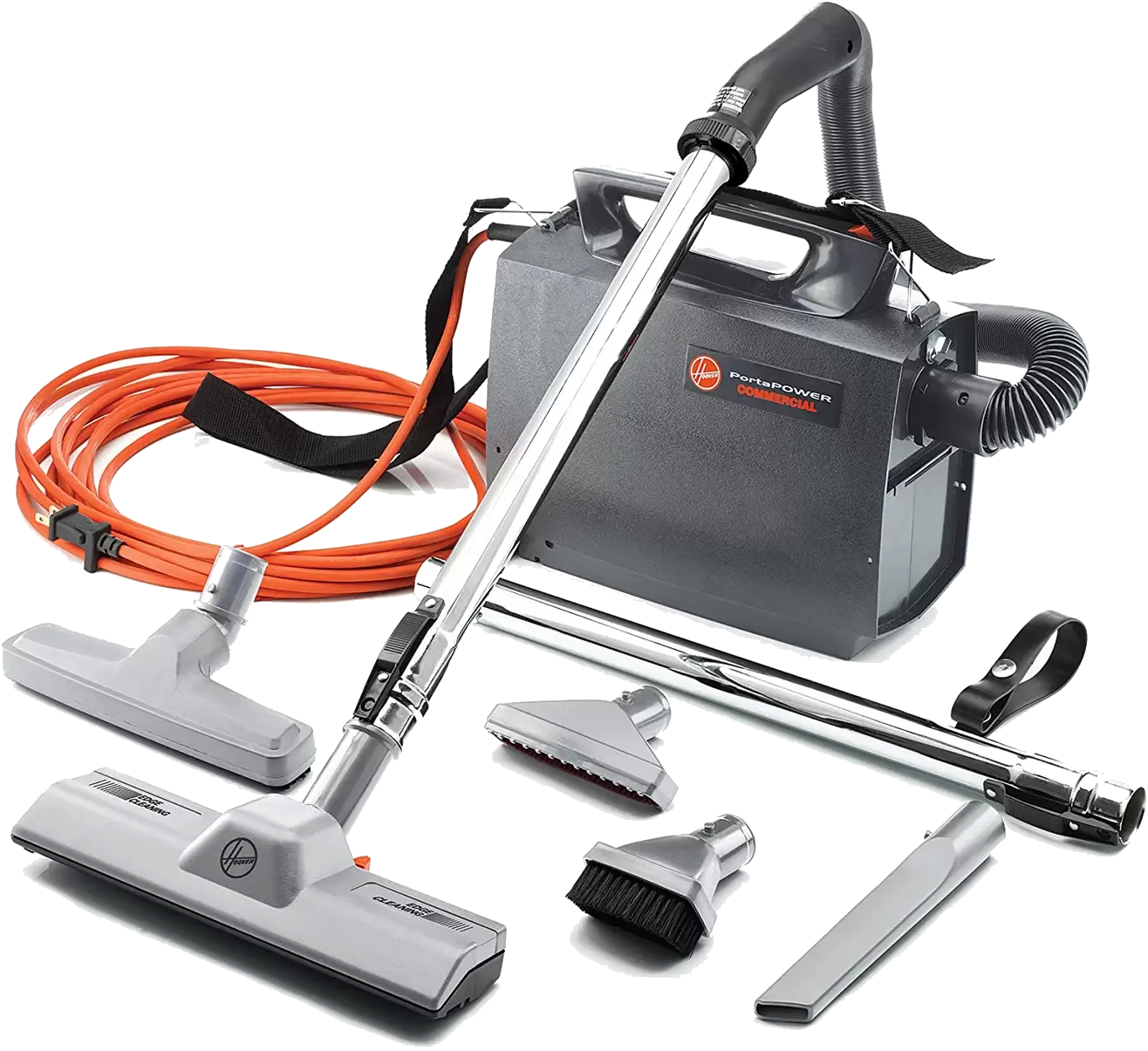 Atrix HEPA Backpack Vacuum
Features
Motor: 1400W/12AMP/120V
Suction: 106 CFM
Corded: yes
Cord length: N/A
Capacity: N/A
Dimensions: 19.5 x 12.5 x 10 inches
Weight: 12 lbs.
Warranty: 1 year limited
Extra attachments: Nozzles, crevice tool, HEPA filters
The Ergo Atrix comes with a backpack shape and is quite fashionable to look at. It is a lightweight machine of 1400 watts and 106 CFM. It has an adjustable belt with a shoulder strap to keep your back erect and lessen the amount of back pain.
The shoulder straps are also flexible, so you can find a position where you are pretty comfortable with them. It is designed for both left-hand and right-hand users, and you can also change sides or move it on one shoulder sometimes if you like. It is so lightweight that you won't feel a thing.
The applications are numerous once you buy this vacuum. You can use it for janitorial purposes like offices, schools, warehouses or stairs. The backpack makes sure you have balance and don't tip over, and you can work it constantly without heating. The motor has some kind of cooling system fit within it, which means there is no chance of overheating or danger. Some vacuums are prone to catch fire, but it doesn't with Ergo Atrix vacuum.
If you have a hard floor with all kinds of dry messes, then the Atrix will ensure no escape for them. The 8 quart HEPA filters provide that no dust particle or harmful germ bigger than 1 micron can escape.
It comes with many attachments like a 6-inch hose, blower adapter with which you can clean dirty surfaces for soft cleaning, exhaust filter cover, an extension wand for hard to go places, many nozzles sets for every type of mess, crevice tools, HEPA filters, and bags so no chance of spillover, and a bunch of hoses and filter for future uses. The turbo cleaning option can go hard on hard floors, and the decibel rating of this vacuum is also suitable for making a call or concentrating on a task.
Pros
It is very suitable for hard floors in both commercial and home settings.
It comes with an extension wand.
The cleverly designed harness and shoulder straps are adjustable to your level of comfort.
HEPA filters are very useful for places of dust.
It has a very quiet operation which doesn't disturb you at all.
Cons
Some customers have complained about warranty extensions that cost more and poor customer service.
Additional costs for extra attachments.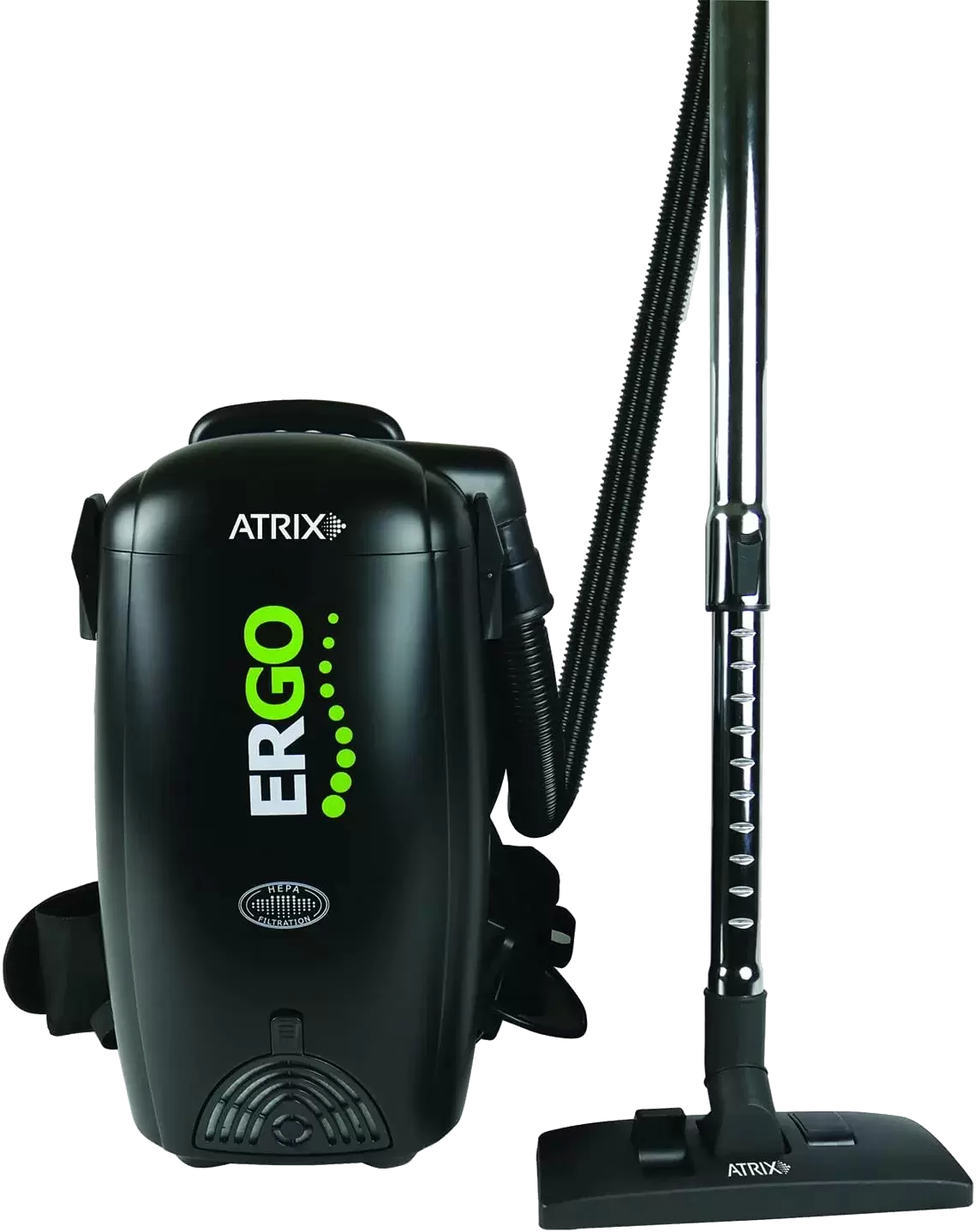 Powr-Flite Pro-Lite Corded Backpack Vacuum
Features
Motor: 1200W/12AMP/120V
Suction: 110 CFM
Corded: yes
Cord length: N/A
Capacity: 4 qt.
Dimensions: 5 qt. backpack/upright
Weight: 10 lbs.
Warranty: 1 year limited
Extra attachments: Nozzles, crevice tool, HEPA filters, bent wands
House cleaning can be tiring, but when a vacuum is lightweight and has excellent suction power, the work can be finished in minutes, so we recommend a product that is easy to handle and suitable for house cleaning.
The Powr Filte Pro-Life is a corded vacuum cleaner with a backpack of only 10 pounds and can be used as an upright vacuum. With a four qt. The storage bin is easy to drag around on your back, and with a long extension cord, it can maneuver around places without changing the outlet.
With a comfortable shoulder strap and back harness, you can carry it around the home, and with an extension wand, it is very easy to clean corners and furniture. It has a 1200 watts wattage and 1.5 hp motor with a decibel rating of 71dB, which is not distracting. It can clean rugs, carpets, wood, hard floors, stairs, and furniture and pick up dust particles, crumbs, legos, and pet hair. It is very small and can be stored in a garage or any other place.
It has many useful extra tools like double bend wands of different diameters, which can fit under a sofa or a cabinet. It has a 17 inches crevice tool and a 1-inch carpet tool that avoids direct contact with the surfaces, so airflow doesn't get affected.
You will also get many benefits from HEPA filters that come in the box. HEPA filters and bags are washable and can be reused. And with a push-button, the vacuum can convert into a canister vacuum.
Pros
Best for home use for any kind of dry mess.
Comfortable harness and shoulder strap.
Low noise settings.
Approved by LEED and CRI
Cons
Some people have complained about the on/off switch for canister mode.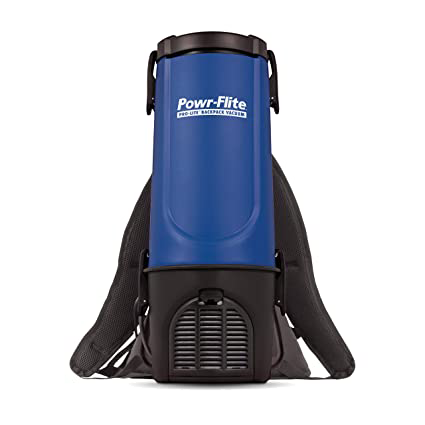 ProVac FS 6 Commercial Backpack Vacuum
Features
Motor: 1108W/120V
Corded: yes
Best for carpet use
Cord length: 50 ft.
Capacity: 6 qt.
Dimensions: 31.3 x 18.3 x 12 inches
Weight: 9.6 lbs.
Warranty: 3-year limited
Extra attachments: restaurant tool kit
This ProTeam vacuum cleaner model is packed with advanced features designed to clean carpets, fit into tight corners, and filter the air in areas prone to dust and allergens.
It has an 1108 watt motor with a suction power of 159 CFM, which is very powerful for any type of mess, not just a carpet. Four levels of advanced filtration in the vacuum and two HEPA microfilter bags prevent dust particles from escaping into the air. It has a 50-foot long cord which limits the need to change outlets; this unit can cover 1054 square inches for quick clean up.
The ProVac FS six portable backpack vacuum cleaner has updated the FlexFit harness design by incorporating thicker back and shoulder pads and an adjustable chest strap for support to increase your comfort and protect your posture. Other handy additions include the loose weave fabric that keeps you cool while you clean and the built-in tool belt that holds the restaurant tool kit accessories.
These accessories are a 14-inch hard floor tool with a nylon brush, a 14-inch carpet tool with scallop, a five-inch upholstery tool, a three-inch dust brush, an 11-inch crevice tool, and an aluminum wand with a push button and a hose.
With a weight of 9.6 pounds, it is very easy to handle and maneuver around the house or a commercial place. It is the most popular backpack vacuum cleaner, with customers impressed with its motorized nozzle with a swiveling brush that adapts to high pile rugs and carpets. The price may be a bit steep for some, but the performance of this model makes it a worthwhile investment.
Pros
It has extensive coverage and tools made for it.
It comes with many extra attachments.
The harness and shoulder patch is quite comfortable to use.
It has a cord length of 50 feet.
Cons
It is not very affordable when it comes to its price.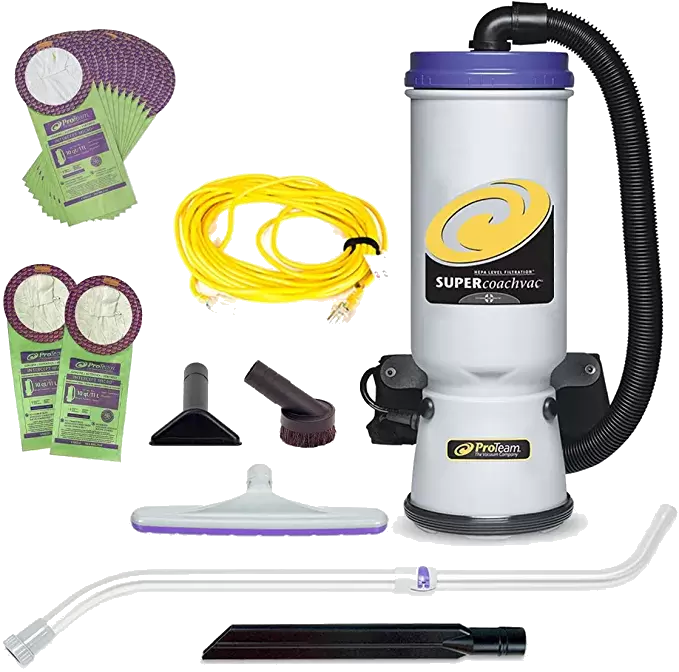 Makita XCV05ZX Backpack Dry Vacuum
Features
Battery: two 18V batteries
Corded: no
Capacity: 2 qt.
Dimensions: 19.3 x 12.6 x 9.8 inches
Weight: 9.4 lbs.
Warranty: 3-year limited
The best feature of a cordless backpack vacuum is that you can bring it practically anywhere. It usually has a very quiet operation and a slick design that can be easily maneuvered in confined spaces and high to reach locations such as AC vents and ceiling fan blades. One of those cordless models is the Makita XCV05Z backpack vacuum powered by two separately purchased lithium-ion batteries and a durable brushless motor that can generate up to 53 CFM of suction power and 28.5 inches water lift.
You can also check it out: Best Water Filtration Vacuum Cleaners
The efficient motor is optimized to run up to 50% more on a single charge. With this device, you won't have to worry about adding extension cords to increase range, tripping over annoying cables, or enduring roaring while cleaning. You'llYou'll also love the lightweight laptop, with built-in batteries at just 9.4 lbs.
Padded shoulder straps and an adjustable waistband ensure a comfortable fit. At the same time, the hand-held, button-operated controller provides one hour of high-setting cleaning and up to 90 minutes of non-stop low-setting cleaning. Upon purchase, you will also receive a 39-inch hose with a telescopic rod that extends 20 to 34 inches more to reach narrow and remote areas and a HEPA filter mechanism that effectively captures most pollutants in our houses.
The downsides of this vacuum that you will have to deal with are the small two-liter capacity and the narrow pipe that tends to get clogged.
Pros
It has a brushless motor and a very quiet battery.
It has a very compact design and can be fitted in a bag.
It has an adjustable extension wand.
It has a very long battery life.
Cons
It can clog very easily.
Due to low dust capacity, you have to empty it several times.
Why should you buy a Backpack vacuum?
The best backpack vacuums come with an adjustable strap and belt for comfort and a snug fit. Backpack vacuums come with various accessories and accessories to clean a variety of surfaces and areas, including narrow crevices, distant spots, and under furniture.
These vacuums come with belt storage for accessories, so you never have to change your head. Wired devices save time with long cords for more comprehensive coverage without switching outlets, and cordless models have variable settings to extend battery life for longer run times.
For better maneuverability, backpack vacuum cleaners are pretty lightweight. The heaviest models on our recommended list of the best backpack vacuums for hardwood floors, carpets, and other surfaces are the ProTeam Super CoachVac 10 qt backpack vacuum and the GV 10 qt HEPA commercial backpack vacuum, weighing just 11 pounds. They are usually excellent value for money.
Let's take a quick summary of the best vacuum cleaners we chose for you for the backpack vacuum cleaners category.
ProTeam Super QuarterVac Commercial Backpack Vacuum Cleaner, "A high-powered vacuum with quality service and deep cleaning comes with affordability and great design."
Hoover Commercial CH30000 Lightweight Canister Vacuum Cleaner, "A mean clean machine. It will suck anything."
Atrix HEPA Backpack Vacuum, "With this type of suction power and cord, it will go to lengths to clean your floor."
Powr-Flite Pro-Lite Corded Backpack Vacuum Cleaner, "Not a hard hitter, but will be a wonderful addition to your house and have a lot of extra accessories for the best cleaning experience."
ProVac FS 6 Commercial Backpack Vacuum, "Carpets have lots and lots of dirt and other things, and it will make sure it gets everything."
Makita XCV05ZX Backpack Dry Vacuum, "Small and lightweight and has excellent battery life. " You have to consider a few things while buying the best vacuum that you will need."
FAQs
Does the Atrix Backpack vacuum come with an extension cord?
The VACBP1 does not come with an extension cable. Atrix manufactures the Atrix backpack cable (pigtail) to a specific length for two reasons: 1) Users of this line of products from professional cleaners to homeowners, and by making the cable as a pigtail, the operator can enable select the most suitable extension cord size for your application; and 2) if the extension cord is damaged, it provides the operator with a quick fix by simply replacing the extension cord, not the entire vacuum cleaner.
Mikita XCV05ZX vacuum cleaner has a HEPA filtration system; is it suitable for abatement asbestos?
We believe it would be suitable for that purpose. However, we do not recommend it. It has a small capacity and isn't that powerful.
Does ProVac FS 6 come with the actual backpack, or is that something you need to order also?
The ProVac FS 6 is a backpack-style vacuum that includes a harness that allows the user to wear it on their back.
What is the CFM rating on the Power Flite Pro vacuum?
The vacuum has a CFM rating of 100 CFM, which is very strong suction power.
Can a Hoover commercial CH30000 be used on a bath mat with rubber on the backside?
This is a great little vacuum. It has enough suction to do a bath mat. If you are not careful, I would never use a large vacuum that could suck up your whole carpet. It works great and never has any issues with vacuuming the bathroom, curtains, furniture, stairs, etc.
Does Amazon sell the attachment required to use paper bags? Which model paper bag does Hoover commercial Ch30000 use?
Hoover 4010050N paper bag adaptor kit is on Amazon.
Can you tell me the part number of the correct bag for the Super QuarterVac vacuum?
For the Super QuarterVac, you have two options: 100431 (Open Collars) 106995 (Closed Collars). Both will work on the same machine. With the open collar bags, you have the benefit of emptying the bag and reusing it if you wish. With the closed, you do not have that option and will need to dispose of the pack when full.
The Final Verdict
Our team chose the ProTeam Super CoachVac 10 qt backpack vacuum cleaner from ProTeam, a partner of the American Lung Association, to promote indoor air quality and lung health. It has a four-stage filter system and an adjustable strap for an individual fit.
In second place is the corded backpack vacuum PowrFlite ProLite, which is also our pick for the best commercial backpack vacuum. It offers broad coverage combined with a powerful motor with impressive suction power to reduce cleaning time. We also like the versatile cleaning arsenal, which includes multiple filter bags.
Our third choice is the Hoover Commercial CH30000, the best Vacuum cleaners in the world. Backpack for wooden floors. Harness design, long swivel hose, multiple options for dirt removal, and UL and ETL approval.